Transportation
Downtown Berkeley is easily accessible by all modes of transportation including BART, bus, bicycle, and automobile. The Downtown Berkeley BART station is located in the center of downtown and provides free bike parking at the unique "Bikestation." AC Transit serves the downtown with numerous bus lines and the UC Campus Shuttle circles the campus every 12 to 30 minutes during peak hours. More than 2,500 parking spaces are available on the street and in parking garages and lots throughout the downtown.
Downtown Berkeley Map and Transit info
Parking
Downtown Berkeley offers over 2,500 parking spaces on-street, in lots, and garages throughout the Downtown area. Monthly passes are offered at most garages, as well as discounted early bird and evening parking. See list of parking locations below, and locations marked on above map.
Center Street Garage – OPEN UNTIL 1AM ON WEEKENDS!
Only one block away from The UC Theatre, the solar-powered garage has space for 720 cars, 350 bicycles, plus 20 charging stations for electric cars. The Center Street garage is open Monday-Saturday 5:15am-1am; and noon-12am on Sundays.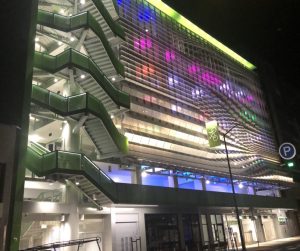 Golden Bear Parking Lot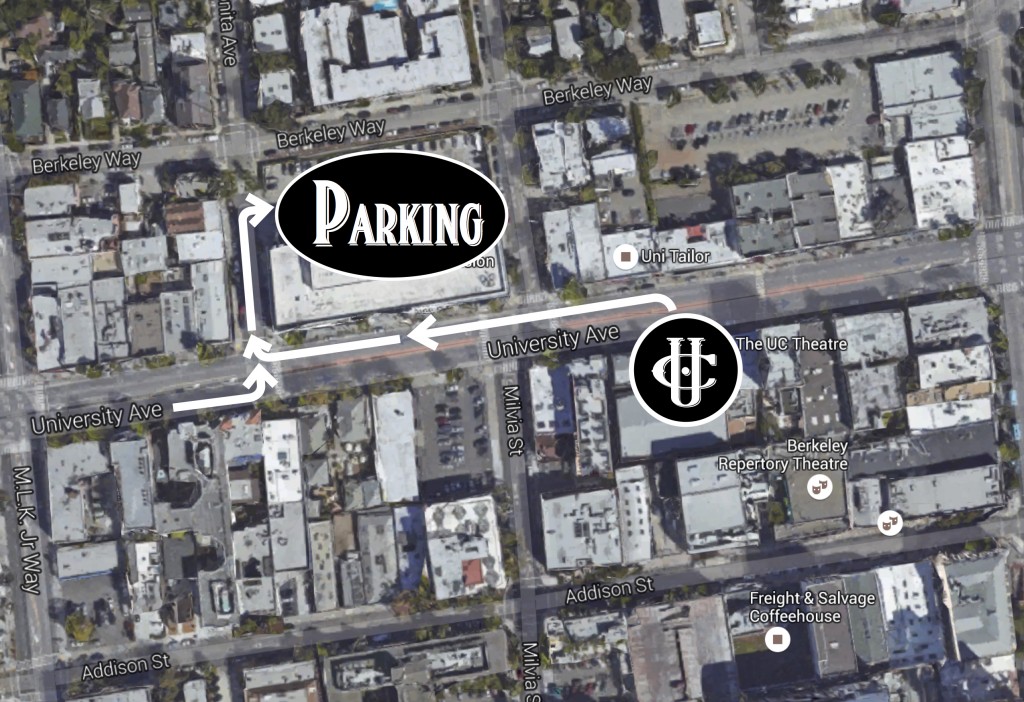 Walk from the Golden Bear Parking Lot
Surface Lot
Open until 1:00 AM
No Parking 1:00 AM to 7:00 AM
$2/hr Use PayByPhone mobile app (Location #9947​)
Park at your own risk. Do not leave valuables in your vehicle. UC Regents cannot be responsible for lost or stolen items.
Bike parking is also available on the surface lot for 15-20 bikes.
Driving Directions
From San Francisco:
Cross the Bay Bridge and take I-80 East towards Berkeley/Sacramento. Take the University Avenue exit and go east (towards the hills) approximately 2 miles to 2036 University Ave. The UC Theatre is between Milvia and Shattuck on the right hand side of the street.
From East of Berkeley:
From Highway 24, take the Berkeley exit: Highway 13/Tunnel Road/Ashby Avenue. Drive west on Ashby for 2-3 miles. Turn right on Shattuck Avenue and drive 1.5 miles to University Ave and turn left.
From the South Bay:
Take 880 North to I-80 East/Sacramento towards Berkeley. Take the University Avenue exit. Go east (towards the hills) 2 miles to 2036 University Ave.
From the North Bay:
Take 80 West to the University Avenue exit. Go east (towards the hills) 2 miles to 2036 University Ave.
Transit Info & Services
511
The Bay Area Travel Guide, otherwise known as 511, serves the entire 9-county Bay Area as a 24-hour toll free phone and Web service. It is a one-stop resource for up-to-the-minute information on traffic conditions, public transportation routes and fares, instant carpool and vanpool referrals, bicycling information and more. It includes information on the following transit agencies: AC Transit, Muni, BART, Capital Corridor, VDA, & Paratransit, as well as information on the following airports: San Francisco, Oakland, San Jose, and Sacramento airports.
AC Transit
There are several AC Transit bus lines that serve downtown Berkeley. All buses are wheelchair accessible and can transport bicycles.
BART (Bay Area Rapid Transit) – 510-464-6000 or 465-2278
The Downtown Berkeley BART Station is located in downtown Berkeley on Shattuck Ave. between Center St. and Allston Way. BART serves San Francisco/Colma, SFO/Milbrae, Fremont , Richmond , Dublin / Pleasanton , and Pittsburg/Bay Point.
Hours: M-F 4am – 12midnight; Sat 6am – 12midnight; Sun 8am – 12midnight.
Last Trains Leaving Downtown Berkeley: North 12:50am, South 12:30am

Bike Station – 510-548-RIDE
City CarShare – 510-352-0323
City CarShare provides time-share car rentals on a per-use basis. Cars are located throughout downtown Berkeley and the Bay Area ; $5/hour (10am – 10pm), $1 (12pm – 8am) and $0.44/mile plus application and administration fees.
ZipCar –
415-495-7478
ZipCar provides time-share car rentals on a per-use basis. Cars are located through downtown Berkeley and in many other cities; $9/hour plus application and administration fees.
TAXI Service
A taxi line is located at BART Plaza on Shattuck Avenue between Center Street and Allston Way.
UC Campus Parking & Transportation – 510-642-5149
The UC Shuttle is open to the public for 50 cents (on lines P, R, and S) and $1 (on lines RFS and H). Routes serve the downtown, hills, southside, northside and the Richmond Field Station. During peak hours, shuttles stop every 12-30 minutes in the downtown area. Night shuttles are FREE. Hours: Weekdays, year-round.