Support
Donate today to support concerts, careers, and community!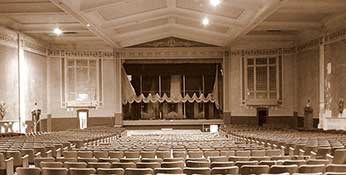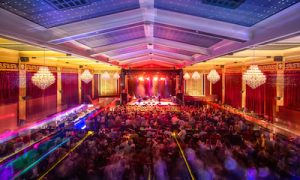 The UC Theatre Taube Family Music Hall is operated by the Berkeley Music Music Group, a 501(c)(3) nonprofit organization. Our success comes from people who believe that The UC Theatre is a rare opportunity for community revitalization with a broad and diverse impact on music, culture, education, and quality of life in the Bay Area. We are sustained by people who buy tickets to our shows and who donate to our Annual Fund and Capital Campaign and Concert Career Pathway Youth Education Program. Without this generous support, we would not be here!
The UC Theatre Emergency Relief Fund: The Berkeley Music Group is very grateful to announce a major ongoing donor has stepped up with an extraordinary $100,000 1:1 Matching Grant in support of the theatre's emergency needs—but we must match this grant with new contributions by June 30th. Every new dollar contributed in support of The UC Theatre Emergency Relief Campaign will be doubled.
Due to the COVID-19 pandemic, The UC Theatre has lost use of its venue for a minimum of six months (March through August). The theatre is normally supported through 60% earned revenue and 40% donor contributions. However, COVID-19 restrictions have resulted in a loss of earned revenue from concerts and private events. For this reason, it is absolutely crucial that The UC Theatre increases its fundraising efforts and asks for the generous support from existing and new community support.
By donating to The UC Theatre Emergency Relief Fund today, you can double your impact to help to save and keep alive community arts, music, culture, jobs, and the economic impact The UC Theatre provides to local businesses, and local, national, and international live performing artists. Please donate to save and preserve this local historical landmark, please help to save The UC Theatre as an independent nonprofit music for years to come.
Thanks to local support and partnerships with community members we have had an extremely successful four years since opening in April 2016. Please help us to avert this existential crisis and continue to provide inclusive, diverse, and culturally rich music programming as well as transformative music business youth education programs. The concert venue receives top ratings from performers and audiences alike. Our Concert Career Pathway Grads come from diverse backgrounds; 50% are women, 70% are people of color, over half are from low-income households. 80% of program graduates have been successfully placed in jobs.
The UC Theatre Annual Fund: Please support all of the community benefit outlined above, and donate to Annual Fund to cover our organization's operating costs, Education Program, and ensure that we will continue our mission to present a vibrant and diverse range of live performances to advance the understanding and appreciation of music, culture, and education.
Concert Careers Youth Education Program: Our Concert Career Pathways Youth Education Program (CCP) teaches young people ages 17 to 25 the technical, creative, and business aspects of concert and event promotion. This nine-month experiential workforce development program develops critical and creative thinking skills necessary to become successful in the 21st-century workplace. Our hands-on work-based learning model is a combination of free workshops and paid internships. We offer these programs to youth attending local schools, under-served youth through partnerships with established non-profit community organizations, and to the general public.
Despite the wealth in the Bay Area, teenagers and young adults, particularly low-income youth of color, struggle to find educational opportunities that lead to living-wage jobs. CCP provides hands-on job experiences, fostering the understanding of work as an integral and satisfying aspect of life, and connecting youth passionate about music business to a field in which there are current job opportunities and career ladders.
In general, music industry management programs, like many industries in the United States, lack equity, diversity, and inclusion. The UC Theatre believes that bringing together young leaders from a variety of backgrounds with diverse perspectives will help create a more equitable and diverse industry and provide a space for underserved youth to have their voices heard by their peers, some of whom come from more privileged backgrounds, providing exposure to and immersion in diverse voices and ideas. This unique management program supports up-and-coming leaders of the Bay Area that hold promise for re-imagining the music industry in ways that advance intergenerational and multicultural leadership, inclusion and equity.
Other Ways to Give: There are many ways to support our efforts to renovate and reopen the historic UC Theatre, including monthly donations, matching gifts, tribute gifts, and gifts of stock.
Did you know that appreciated stock with big gains is the most tax effective way to give?: A gift of appreciated stock (that has been held for more than one year) to a non-profit organization such as Berkeley Music Group can provide you (donor) with two tax benefits: (1) a charitable deduction equal to the average price of the stock on the day it transfers into BMG's account and (2) avoidance of any capital gains tax on the appreciated stock. Please consult with your tax accountant.
Please consider supporting us today or, for more information on how you can make a difference, please contact David M. Mayeri at [email protected]