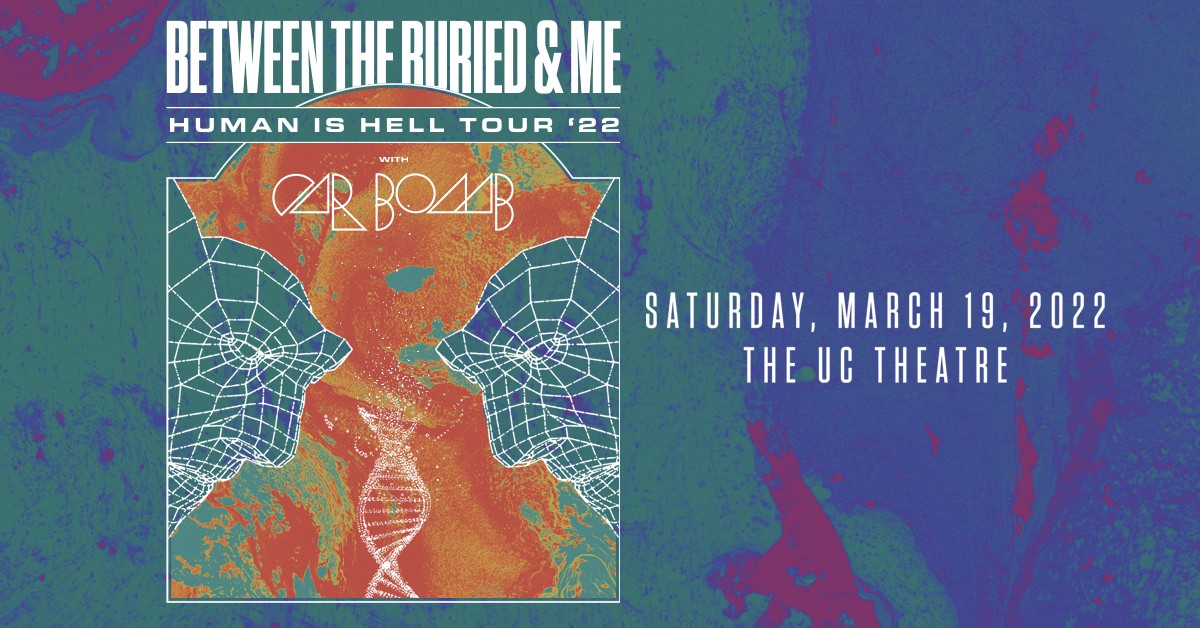 Between the Buried And Me: Human Is Hell Tour '22
Car Bomb
Saturday, March 19, 2022
Doors: 7:00pm • Show: 8:00pm
FACE MASK AND PROOF OF VACCINATION REQUIRED FOR ENTRY.
Read about The UC Theatre's
COVID-19 Protocols
and check out
FAQ's
.

Standing room - limited seats available.


Time may move in a circle, but we pick up wisdom along the way. When we face similar situations further down the line, we're armed with the experience to not only survive, but actually thrive. Between The Buried and Me built their influential 2007 album, Colors, on an unwavering commitment to artistic integrity. They've only fortified that commitment on its 2021 sequel, Colors II [Sumerian Records]. The circumstances surrounding both records bear key similarities, yet the North Carolina quintet—Tommy Rogers [lead vocals, keyboards], Paul Waggoner [lead and rhythm guitar, backing and lead vocals], Dustie Waring [rhythm and lead guitar], Blake Richardson [drums], and Dan Briggs [bass, keyboards]—once again stretch the boundaries of their signature sound and heavy music at large.
"Especially with 2020, we really wanted to give it all we could and show the world we're still here," explains Tommy. "That's part of the reason we named it Colors II. We were in a similar spot when we did the first Colors. Back then, we had just gotten done with OZZfest. We were wondering, 'Where do we belong in this music scene?' We still struggle with that. At both of these moments in our career, we decided to just be ourselves and write the best album we can. We came out guns blazing, and I feel like it's some of our most creative material in a long time."