Youth Advisory Board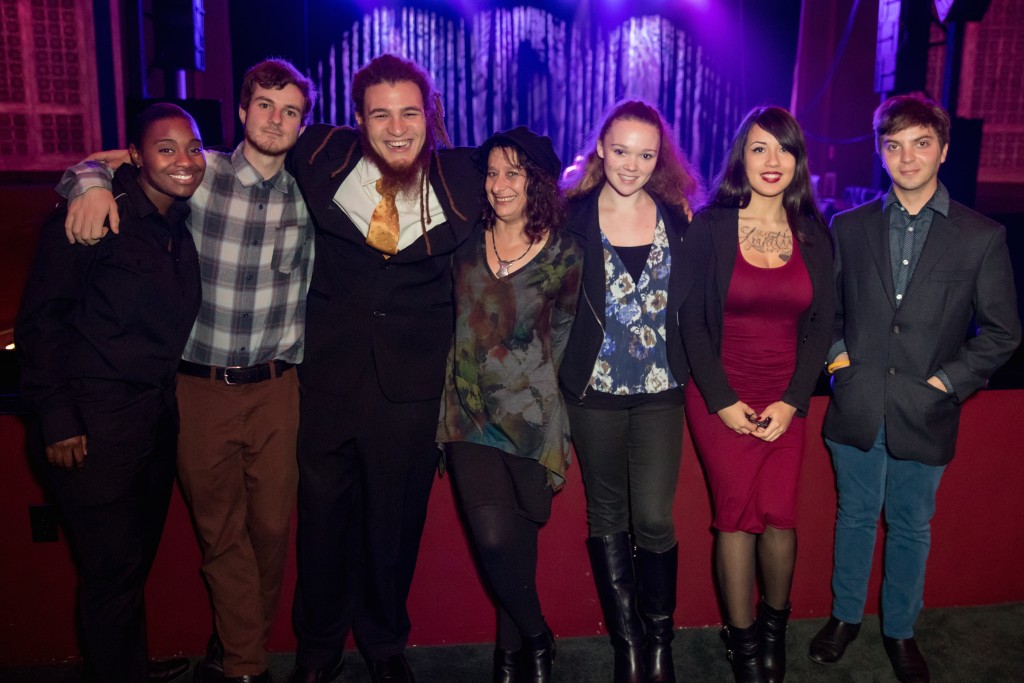 The UC Theatre's Youth Advisory Board (YAB) is comprised of 10 young people ages 17-25 who provide the young person's perspective for the program design, implementation evaluation and outreach of The UC Theatre's Concert Career Pathways Program. Participants take on leadership roles and mentor participants in our Concert Career Pathways program.
For more information on YAB email [email protected].
To stay up to date with our Education program, join our email list.
Youth Advisory Board Bios
Bobby Kirwin
Bobby, raised in Alameda, is an East Bay native. After graduating from Alameda High School, he began to attend Berkeley City College and worked for multiple departments within the UC Theatre. Through adolescence of attending concerts, backpacking trips, and volunteering as a high school theatre technician, he developed a passion to pursue live music production management. In the program, he would remain busy at the Theatre working production and security, studying for classes, and promoting upcoming shows in the streets. He finds inspiration in everyone, from favorite performers to random strangers.

Kailey Hecht
Kailey, born and raised in Berkeley, joined the Youth Advisory Board in the spring of 2016. She attended The Urban School of San Francisco and graduated later in the year. At school, she remained involved with the choir group and was a member of the swim team. Kailey appreciates not only all that she has learned in relation to running a concert venue, but also the exposure to the rich variety of music performed at The UC Theatre.
Noah Alioto
Noah, who hails from San Rafael, CA, was a student at the College of Marin with a passion for music. Outside of The UC Theatre, he would work part time at Peet's Coffee and assist family within the ceramic business while the rest of his time was devoted to writing lyrics and connecting artists. While he remained interested in dabbling in multiple business ventures, such as opening his own coffee shop, his dream career was to be a music artist. His main inspirations include music and nature, starting his day by putting on a theme song while getting ready and escaping to a trail or beautiful nearby view to clear his mind and come up with the next move in his game plan.
Kristina Kamphuis
Kristina, also known as KG, is a visual artist and illustrator born in Amsterdam, Holland and raised in the Bay Area. She was a YAB member and a part of The UC Theatre Staff since February 2016. She would run coat check and in-house merch, promoting the education program right on stage. She would also work security at The Chapel in San Francisco. Being a woman of Indonesian-Dutch descent, her goal within the music industry was to create a platform to uplift women of color and other marginalized groups. She loves the idea of challenging people's views through the healing power of art and music, drawing her inspiration from her mother, her favorite music, nature and exploring her own femininity and related emotions.
Nick Hart
Nick was born and raised in Berkeley, California. After graduating from Berkeley High School, he moved up to Arcata to pursue a Bachelor's of Arts in Music at Humboldt State University, where he also worked as a recording technician and teacher's assistant. After graduation he moved back to Berkeley and immediately started working for The UC Theatre, where he worked in the marketing office as Promotions Coordinator. Outside of the Theatre, he would work security at The Chapel in San Francisco, manage two bands, work sound at First Fridays in Oakland and other events. Outside of all these things, Nick was dedicated to producing hip hop and electronic music.
Vanessa Rodriguez
Vanessa was born and raised in the SF Mission District. Outside of The UC Theatre, she would dedicate her time as a community health outreach worker at the Alameda County Health Care Services Agency Center for Healthy Schools and Communities, as well as the REACH Ashland Youth Center. Her dream would be to work in small towns in Mexico that deserve more support and opportunities. Aside from working within her community, she loves music and aims to incorporate social justice within it. She describes herself as being "inspired by the struggle", including the personal trials she has overcome and strives to use her current position to uplift others to reach their own goals.
Shakeea Thomawn Smith
Shakeea T. Smith is the full-time Concert Career Pathways Education Program Director for the Berkeley Music Group. Born into a gifted musical family, she started performing at an early age. Now, Shakeea is also known by her stage name LaDy-SN3AK and is a musician, songwriter, and promoter originally from the San Francisco Bay Area. Shakeea's start in education was driven by being a youth participant at Youth UpRising during her time in college. Over time she became their Enrichment Coordinator/ Education Coordinator and eventually their Education Program Manager, which fueled her deep passion for teaching and helping youth to find their inspiration. After becoming a part of the pilot Concert Career Pathways cohort she found herself wanting to give back to The UC Theatre to help others build a better foundation for themselves within the live concert industry.

Khairee Clark
Khairee was a training I.C.T. tech, stagehand, rapper, and producer during his time at YAB. He thoroughly enjoyed being exposed to different genres and styles of music during his years at The UC Theatre. When he was not busy working, studying, or making music, his days off would be spent reading, drawing, sleeping, and catching the sunrise or set.
Deandre Evans
Deandre Evans has acted in multiple theatrical productions over the years; "Te's Harmony," "Po'Boys Kitchen," "The Adventure of Grief," and "Bag Ladies' Butterfly Blues". His poetry and raps have been featured in The Bigger Picture Campaign and the Off/Page Projects' "This Is Home". He is emerging as a well-respected voice in the important dialogue around food justice, low-income housing rights, mental health, and other social justice issues in Richmond. Deandre would teach weekly spoken word workshops and help to coordinate open mics at the RYSE Center, creating safe spaces for Richmond youth to express themselves.