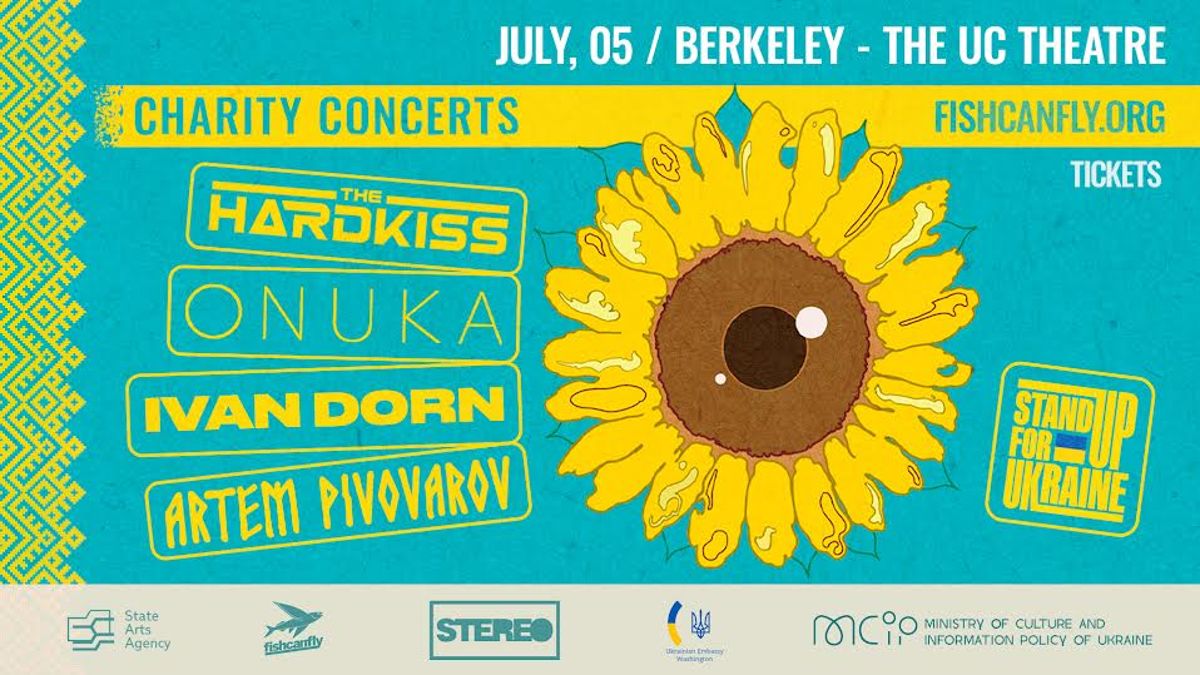 Ukraine Benefit Concert - The Hardkiss, Ivan Dorn, ONUKA, and Artem Pivovarov
Tuesday, July 5, 2022
Doors: 7:00pm • Show: 8:00pm
Tickets available online and at the box office.

Standing room with limited VIP Tables available.

The Hardkiss, Ivan Dorn, ONUKA, and Artem Pivovarov will give concerts in the United States in support of Ukraine.
Concerts will be held in the summer of 2022 in 6 cities - Miami, Chicago, New York, Berkeley, Los Angeles, and Seattle.
With these performances, musicians want to continue to tell, sing and draw attention to the war in Ukraine and raise funds to support humanitarian and cultural campaigns in Ukraine.
This tour is another drop in the ocean of help needed by Ukraine and the Ukrainian people, who have demonstrated their indomitable will and strength of spirit. Strength to victory and freedom.
The purpose of these concerts is to gather as many caring people who want and can help: in word, deed, money.
Tour dates:
June, 28 - Miami - Sport of Kings
July, 01 - Chicago - Park West
July, 03 - New York - Melrose Ballroom
July, 05 - Berkeley - The UC Theater
July, 07 - Los Angeles - Avalon
July, 08 - Seattle – Showbox
The Hardkiss, Ivan Dorn, ONUKA, Artem Pivovarov дадуть концерти в США на підтримку України.
Концерти пройдуть влітку 2022 року у 6 містах — Маямі, Чикаго, Нью-Йорк, Сан-Франциско, Лос-Анджелес, Сієтл.
Цими виступами музиканти хочуть і надалі розповідати, співати та привертати увагу до війни в Україні та зібрати кошти на підтримку гуманітарних та культурних програм в Україні.
Цей тур — ще одна крапля в океані допомоги, якої потребує Україна та український Народ, який продемонстрував свою незламну волю та силу духу. Силу до перемоги та свободи.
Метою цих концертів є зібрати якомога більше небайдужих людей, які хочуть та можуть допомогти: словом, ділом, коштами.
Дати концертів:
28 червня - Маямі - Sport of Kings
1 липня - Чикаго - Park West
3 липня - Нью-Йорк - Melrose Ballroom
5 липня - Сан-Франциско - The UC Theater
7 липня - Лос-Анджелес - Avalon
8 липня - Сієтл – Showbox