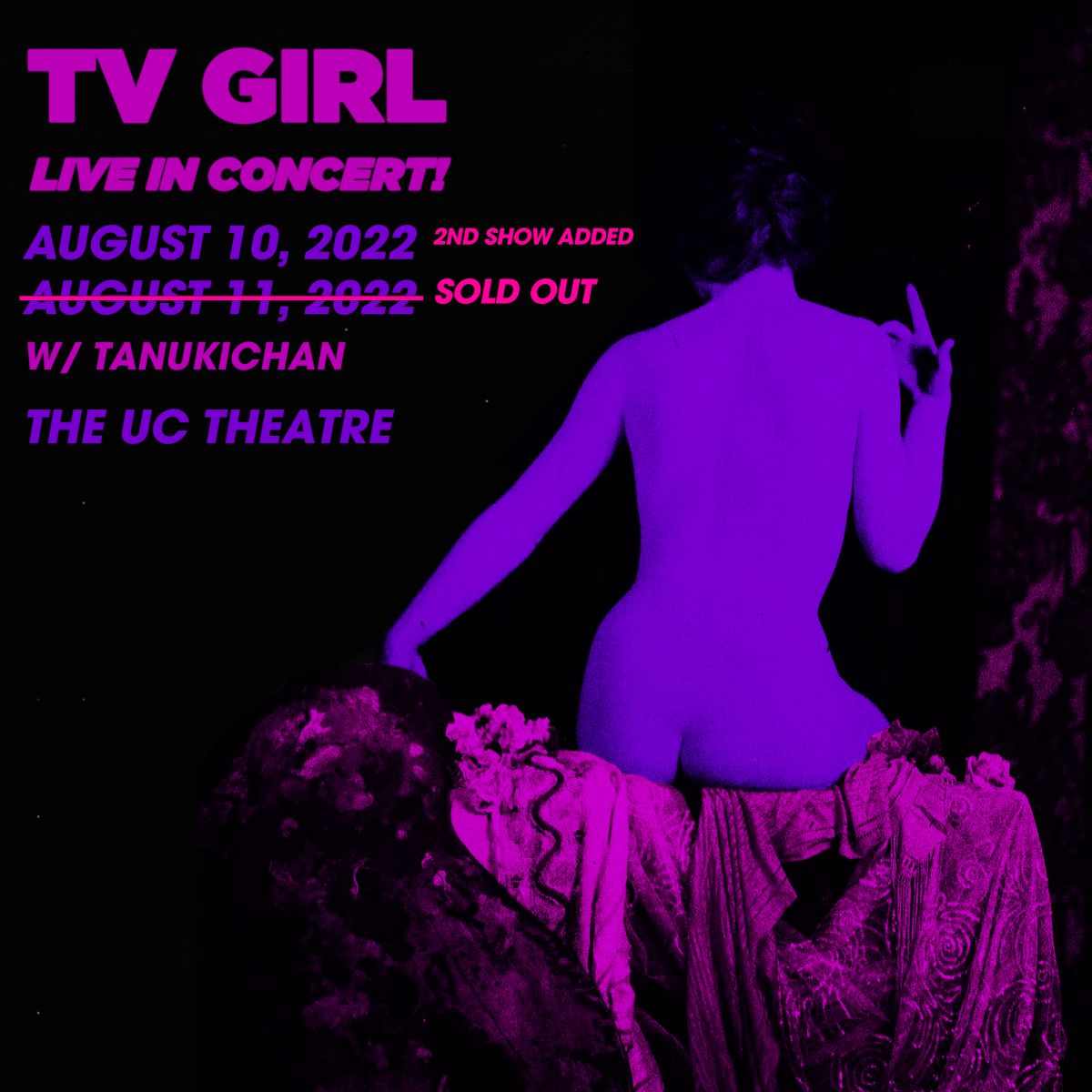 TV Girl - 2nd Show Added
Wednesday, August 10, 2022
Doors: 7:00pm • Show: 8:00pm
General Admission with Limited Seats

Day of Show - $32.50

On the surface, TV Girl is a sunny, throwback splash of '60s French pop and southern California soul. Yet, under that shiny veneer lays a dark heart, beating with sharp wit and cynical alienation, and the music is all the more alluring for it. TV Girl, comprised of Brad Petering, Jason Wyman, and Wyatt Harmon, was formed in 2010 by Petering as an outlet to blend the love of Spector-esque girl-group pop with an emerging interest in hip-hop. Featuring shimmering vocals and sampled beats, the self-titled debut EP of the same year turned heads online immediately; the group's lush vintage rhythms and timeless pop hooks were even making waves on the BBC. They continued to release increasingly popular EPs and mixtapes between tours.

TV Girl's latest album, Death Of A Party Girl, sustains the dream pop, neo-psychedelic feel of previous work. Petering delivers prosaic storytelling in third-person narration, recounting tales of wistful, romantic flings and mini-dramas starring various shades of the archetypal manic pixie dream girl. The songs are echoing and surreal, cut with samples of dialogue from movies and radio shows that convey a grainy, vintage feel. Standouts include "King of Echo Park," its beachy vibe conjuring images of skinny palm trees, graffitied skateparks, and humming lowriders; "7 Days Til Sunday", a swaying, upbeat bop where the narrator reminisces of rooftop parties and one night stands in Manhattan; and the intoxicating "Every Stupid Actress".