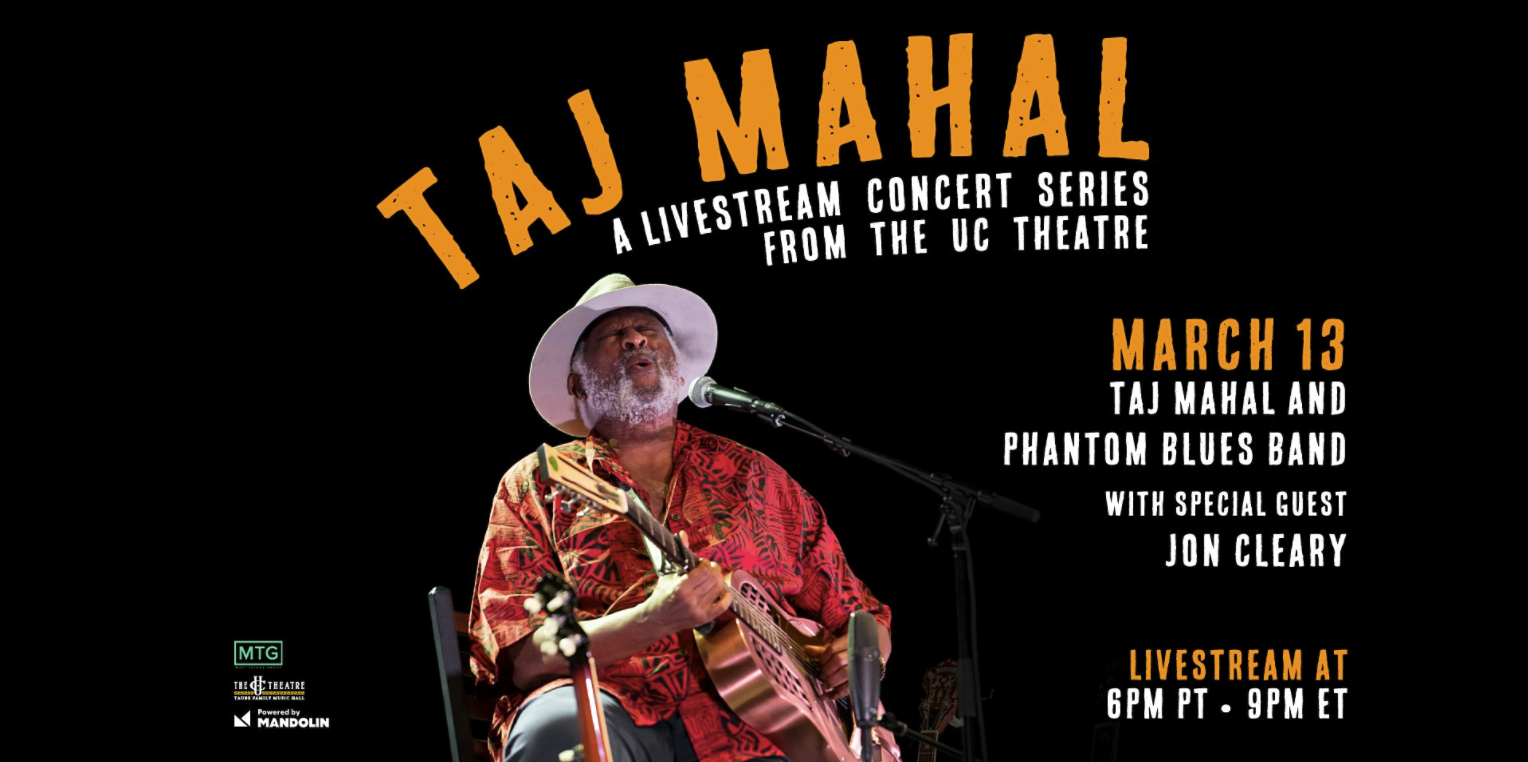 Taj Mahal & Phantom Blues Band with Special Guest Jon Cleary Livestream
Saturday, March 13, 2021
Show: 6PM
Quantifying Taj Mahal's musical significance is impossible but people try anyway. Composer, multi-instrumentalist, vocalist, multi-GRAMMY® winner, multi-Blues Music Award winner, Blues Hall of Fame member and Americana Music Association's Lifetime Achievement award recipient Mahal is one of the most prominent and influential figures in late 20th Century blues and roots music.
When Taj sought to assemble a studio band for his 1993 release Dancing' the Blues, little did he know at the time he had created an entire "sound" that would see the Phantom Blues Band become headliners at clubs, theaters and festivals around the world. Together and separately, the members of this two-time GRAMMY® winning group have performed with Bonnie Raitt, Stevie Ray Vaughan, Little Feat, Elton John, The Rolling Stones and many more. Featuring Tony Braunagel (drums, percussion), Larry Fulcher (bass), Joe Sublett (saxophone), Mike Finnigan (keyborads/organ/vocals) and Jonny Lee Schell (guitar/vocals), PBB explores everything from Texas Blues to Memphis Soul.
British born New Orleans funk savant Jon Cleary is a virtuosic keyboardist, profoundly expressive vocalist, distinctive songwriter and GRAMMY® winner. His music pays homage to and proudly fills the void left behind by such Crescent City icons as Jelly Roll Morton, Fats Domino, Professor Longhair, Art Neville, James Booker and others. He has toured the world with the likes of Taj Mahal, John Scofield, Dr. John, Bonnie Raitt, and has led his own R&B/soul group the Absolute Monster Gentlemen for over two decades now.