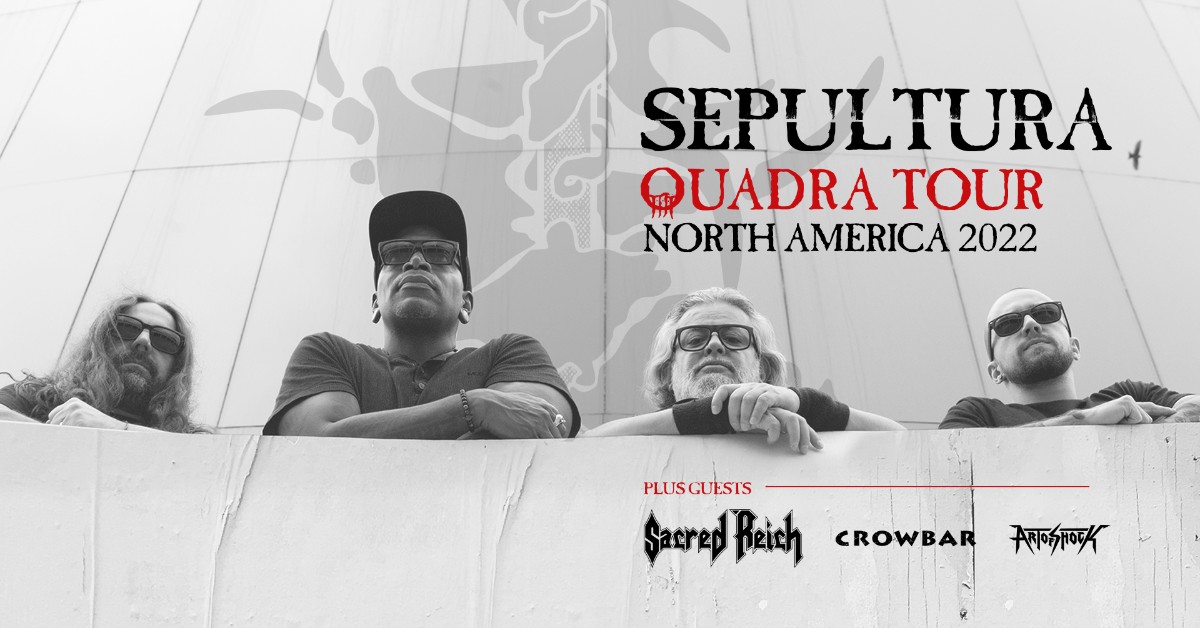 SEPULTURA - Quadra Tour
Sacred Reich, Crowbar, Art of Shock
Saturday, April 9, 2022
Doors: 6:00pm • Show: 7:00pm

Standing room - limited seats available.

It goes without saying that the global metal scene would not be the same without SEPULTURA. For 35 years now, the Brazilian icons are not only a band revered worldwide; they have been, are and forever will be at the very forefront of Thrash Metal, trailblazing ever since they released their long-since legendary debut album "Morbid Visions" in 1986.
While quickly establishing themselves as leaders of the second wave of Thrash already in the late eighties, to this day they never came even close to stagnation. "Quadra", their mighty new undertaking, is proof of a will unbroken, a thirst unquenched and a quality so staggeringly high it's a wonder this band doesn't implode. Now three albums deep into what may very well be their strongest incarnation yet – uniting the talents of old-school members Andreas Kisser (guitars, vocals) and Paulo Xisto Pinto Jr. (bass), vocal force of nature Derrick Leon Green (vocals) and drummer Eloy Casagrande – SEPULTURA are an unleashed power to be reckoned with, uniting bucketloads of experience and youthful vigour in a totally revived way.
"On 'Quadra', we felt the urge to revisit that old thrash feeling of 'Beneath the Remains' or 'Arise',' only seen through the eyes of today," Andreas Kisser utters the magic words. "Add to that the tribal percussion, the orchestral elements, the choirs, the melodies and the clean vocals and you get a thorough run-through of our entire career, backed by a very contemporary approach." Fuelled by an energy almost uncanny for a band that has been active for so long, SEPULTURA storm through a contemporary thrash monument, backed by sublime melodies, a very eerie atmosphere and a fiendishly high level of technicality. Kisser is appreciating these compliments, still maintaining his very down to earth approach. "We don't heed the past and we don't try to be preoccupied by the future too much," he shrugs. "We're in the now, trying every day to make SEPULTURA a little bit better. That's what keeping us strong."