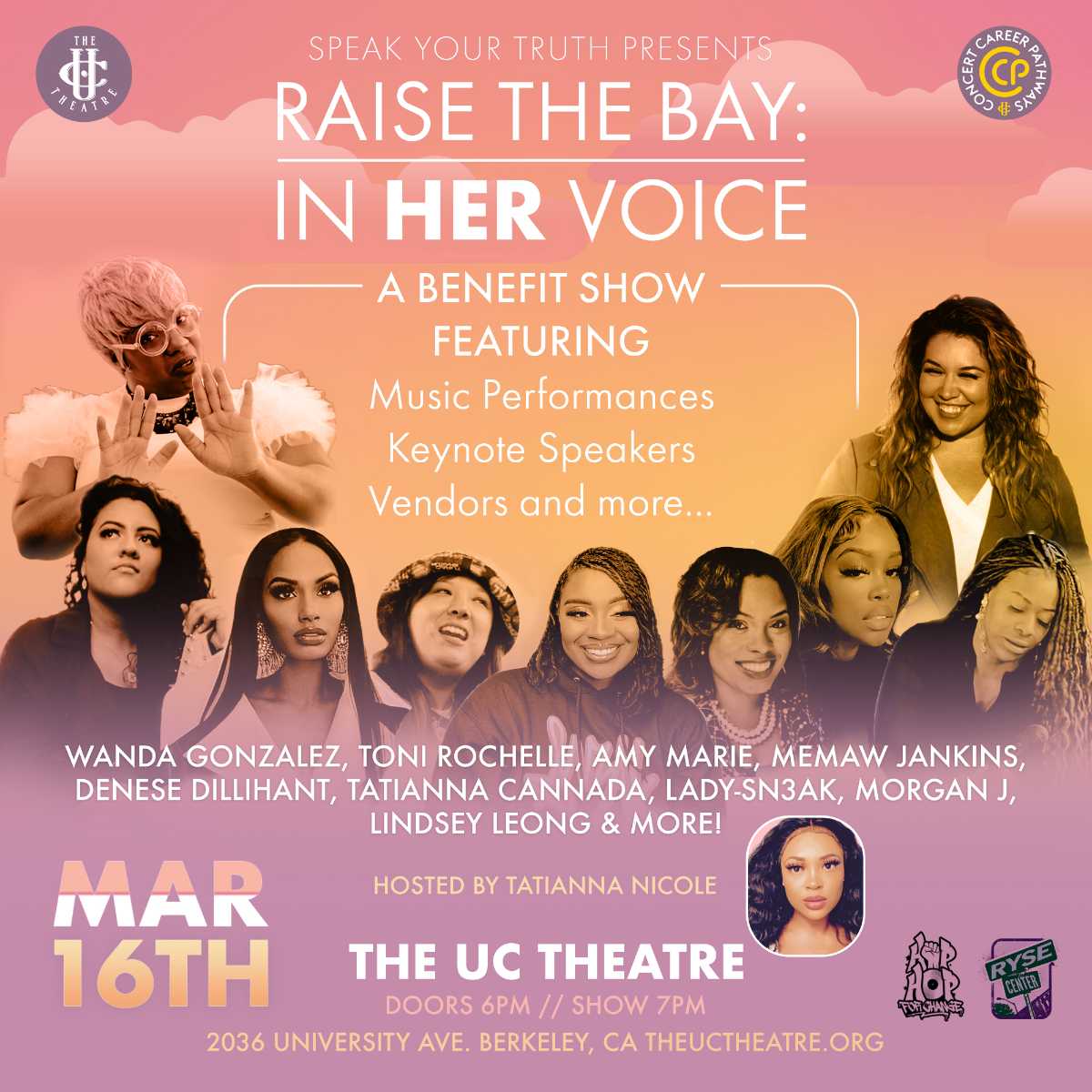 Raise the Bay: In Her Voice
Thursday, March 16, 2023
Doors: 6:00pm • Show: 7:00pm
In honor of International Women's HERstory Month, we are celebrating the women/femme identified community. We uplift the love, the work, and the art that women/femmes have created in this world, and on March 16th, we'll be celebrating for the first time since before the pandemic on our Top Tier (Tier 3), in The UC Theatre. This event is the 4th annual, and it is made possible by The UC Theatre, the RYSE Center, and The UC Theatre's Education Department. This event will feature women/femme identifying: small/big business owners, Mothers, chefs, actresses, comedians, singers, dancers, poets, physical trainers, and so much more.
Proceeds from this event will support the Concert Career Pathways program, a workforce development program dedicated to removing barriers of entry into the music industry for young adults ages 17-25. During Raise The Bay: In Her Voice, audience members will get to see youth and young adults from all walks of life with their hands in every aspect of the production, working alongside industry professionals.
Raise The Bay: In Her Voice was founded by Shakeea T. Smith (LaDy-SN3AK) and Ciera Jevae (Poet Laureate)!

We are still accepting sign ups for
vendor spaces
, and auditions for
performances
!

The RYSE Center Web | IG | FB

RYSE creates safe spaces grounded in social justice for young people to love, learn, educate, heal, and transform lives and communities. Many young people in Richmond navigate their daily lives with an unfair level of unpredictability, disrupting their desire and need for connection and community. We envision a community that inspires youth to live with pride and purpose, where the sounds of gunshots have been replaced by the sounds of organizing, song, collaboration, laughter, and learning. In everything we do, we work to ensure RYSE remains a consistent sanctuary of safety, compassion, and justice for all youth.

Hosted By Tatianna Nicole @tatiannanicole11
Tatianna Nicole Roberts, was born and raised in San Francisco, California. At a young age she began dancing, acting and modeling. Over the years she has had the opportunity to be featured in numerous commercials, TV shows, and Feature Films all over the nation. Roberts has had roles in Discovery Channels "I Almost Got Away With it, "Sex Sent Me to the Slammer", and "Wives with Knives".


Comedian MeMaw Jankins @itsmemaw510

Memaw Jankins is Everyone's Favorite Granny, Auntie and Momma! She is a Woman of God that always tells you like IT IS!
Don't call Her a Cougar… She is a Black Pantha! Memaw is a TownBiz Actress and Comedian that has skills on the Mic. She stays fit by being a Professional Hype Dancer and Supermodel.