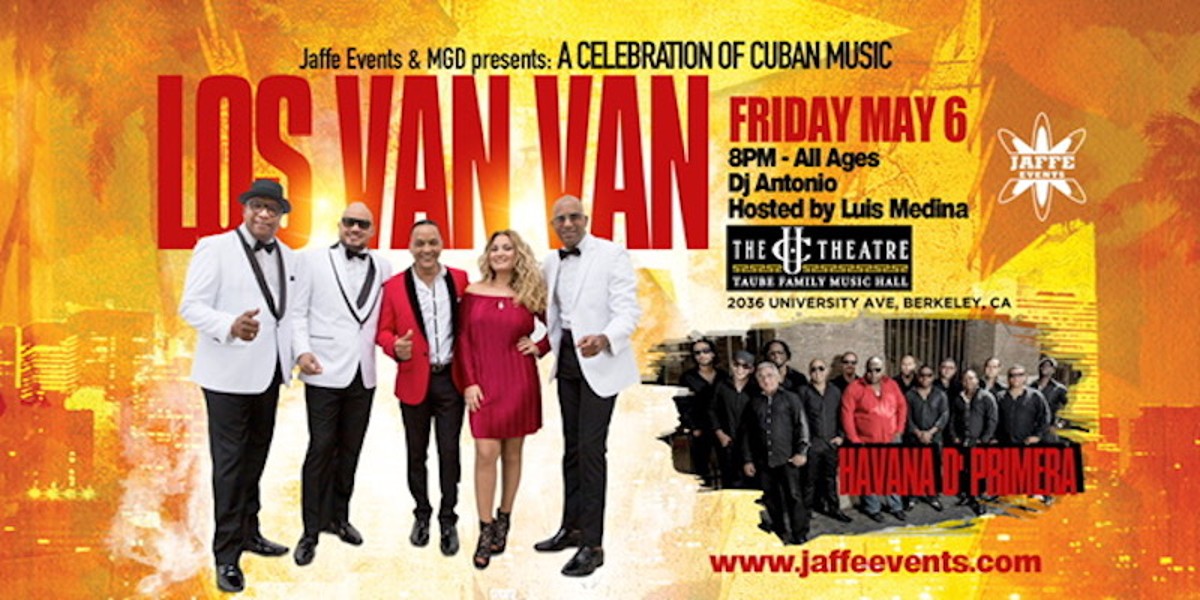 Los Van Van & Havana D'Primera
Friday, May 6, 2022
Doors: 8:00pm • Show: 9:00pm


Standing room - limited seats available.

Los Van Van is one of the leading musical groups of post-revolutionary Cuba. It was founded in 1969 by bassist Juan Formell, who directed the band until his death in 2014. Formell and former band members Changuito and Pupy are some of the most important figures in contemporary Cuban music, having contributed to the development of songo and timba, two popular dance music genres.
The band has a Grammy Award to their credit, the 2000 Grammy awarded to the album Van Van is Here ('Llegó Van Van').
In January 2010 "A Cali," a song from Van Van's latest album was selected as one of the winning songs of the 2009 Cali Fair held in the Cali (Colombia), a city known as Colombia's "salsa capital". The selection was made through a public poll that registered 30,742 votes. Van Van's "A Cali" received 7,905 of the votes, or 26% of the total.


HAVANA D'PRIMERA


Havana D'Primera is the Cuban band directed and founded by Alexander Abreu in 2008, who is widely recognized as one of the greatest trumpet players of his generation.
The band was formed by a collective of the best musicians and Cuban-All-Stars artists in the current Cuban scene including, not only revolutionary dominating musicians in the 90's, but also the most talented up and coming musicians around. Alexander is considered one of the most versatile Cuban musicians, who has created a fusion of Salsa, Jazz, Funk and Afro-Cuban. Abreu y Havana D' Primera have been escalating in the last ten (10) years in popularity throughout Cuba and the world. They are, without a doubt, known as the most "popular " Cuban band!