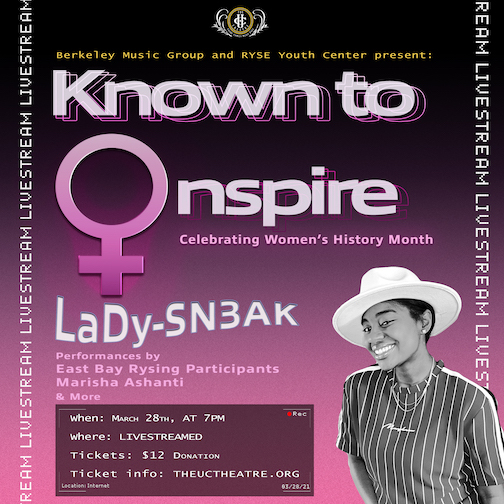 LaDy-SN3AK LIVE: ♀Known to Inspire Livestream
Marisha Ashanti, Ciera Jevae, Nancy Murray, Adrianna Avalos, Elissa Laymon (Lissa), El &, Jaidon
Sunday, March 28, 2021
Show: 7 PM
This is a space for music, testimonies, poetry, and honoring the power of women/ femme folks. This event is asking for a $12 donation. All proceeds will directly support The UC Theatre's Education programs.
LaDy-SN3AK has partnered with The UC Theatre and RYSE Youth Center to host this event to celebrate the young women in our East Bay Rysing program, as well as some friends from the community.
East Bay Rysing, is an artist development program that helps up and coming Bay Area performers grow their craft by taking development classes at RYSE, working with LaDy-SN3AK, and performing on The UC Theatre's stage!
This event will be introducing a few of our East Bay Rysing participants to the world and highlighting a few participants you've already met with our second livestream show of the year. This event will be set up like a night time television talk show (think Jimmy Kimmel Live) with a few live performances and interview segments.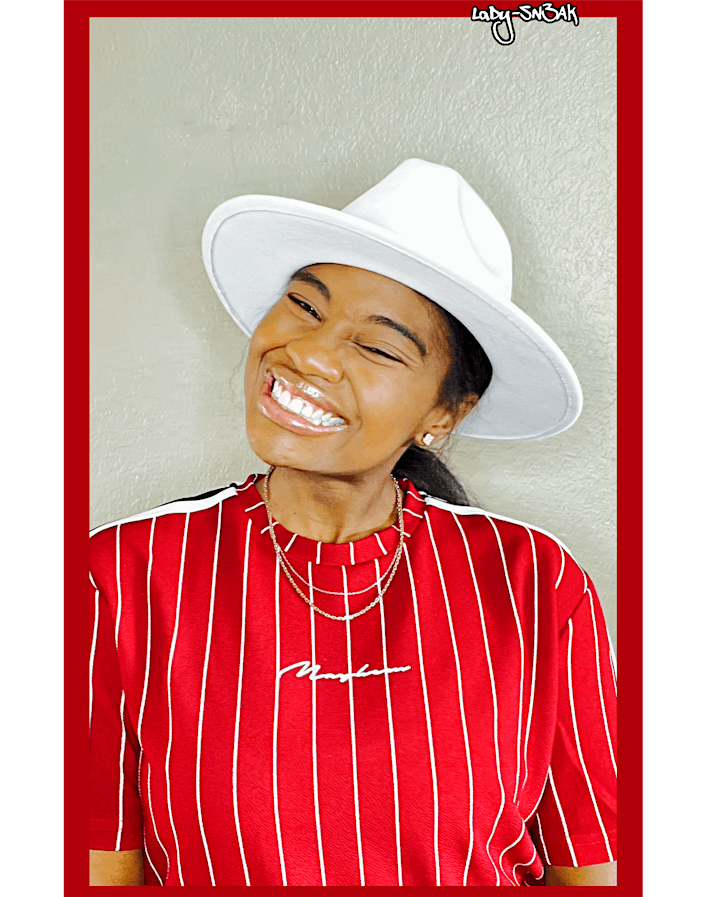 LaDy-SN3AK
Shakeea T. Smith, best known as "LaDy-SN3AK is a Singer, Songwriter, bred in the Bay Area, California. Her unprecedented creativity, undeniable vocal abilities, enthusiasm, fused with electrifying energy "sneaks up" on her audiences compelling them to vibe. LaDy-SN3AK unapologetically pays tribute to her creative influences such as: Beyonce, Lauryn Hill, and Tupac Shakur drawing inspiration from artists who have strong conviction in their ideas and beliefs.
Facebook: @officialladysn3ak
Instagram: @officialladysn3ak
Spotify: @LaDy-Sn3ak
Youtube: @LaDy-SN3AK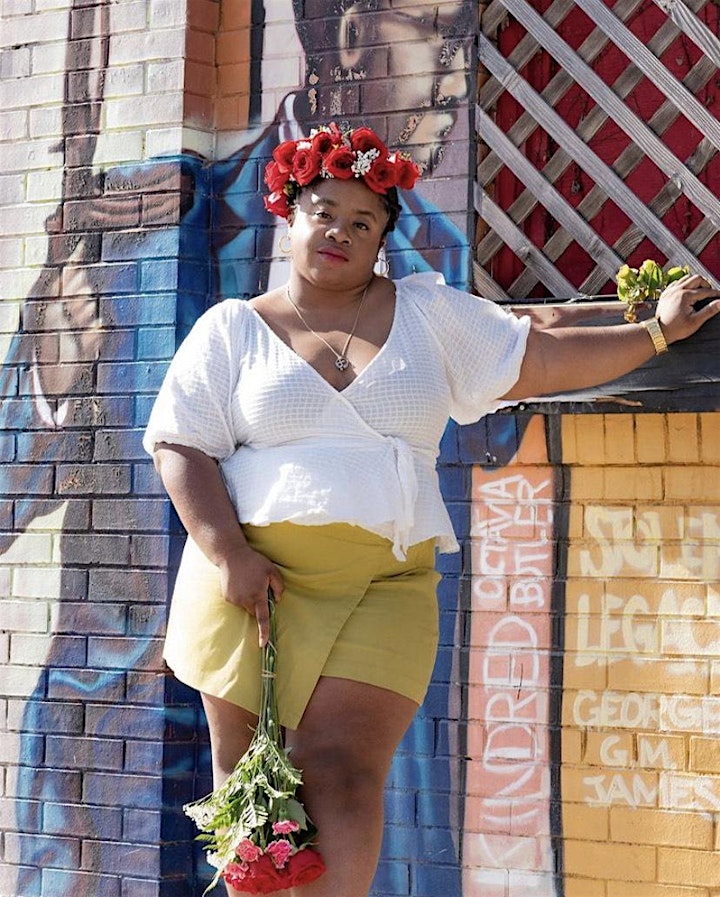 Marisha Ashanti
Marisha Ashanti's a poetic singer/songwriter residing in the bay area by way of Jacksonville,Fl. Currently she is working on her second EP while still performing and celebrating the success of her latest EP Civil Disobedience. Marisha continues to make music that heals the community as she heals herself.
Instagram: @marisha_ashanti
Spotify: @Marisha Ashanti
Youtube: @Marisha Ashanti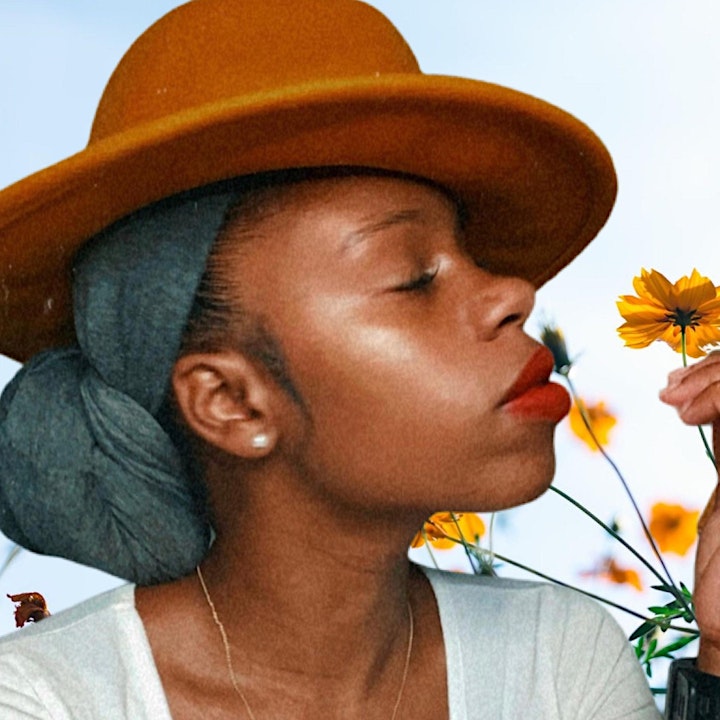 Ciera Jevae
Cierajevae is a Richmond Native serving her community as an Artist Educator, a healer, Poet Laureate, writer, activist, and scholar. She reps her ancestors, & shines light on the lived experiences of the divinity in Black women & girls through poetry and performance. She is the published author of her new collection of poems, Unto Ivy's Rib, as well as the author of two chapbooks, Testimonies of Richmond, and Incarcerated Words. She obtained her B.A in Sociology, and her MFA in Writing, and currently serves as the Media, Arts, and Culture Manager at the RYSE Center.
Her work highlights the intersectionality of Black girls and women and incarcerated communities while centering joy, self-discovery, and healing. She is the Founder of Melanin&Mimosas, a sanctuary space for Black women & Femme identified folks to laugh, heal, be seen, and grow together. For more, go to her website at Cierajevae.com.
Website: www.cierajevae.com
Youtube: @Ciera Jevae
Facebook: @CiCi Jevae
Instagram: @cierajevae
Instagram(Melanin & Mimosas): @melanin_mimosas_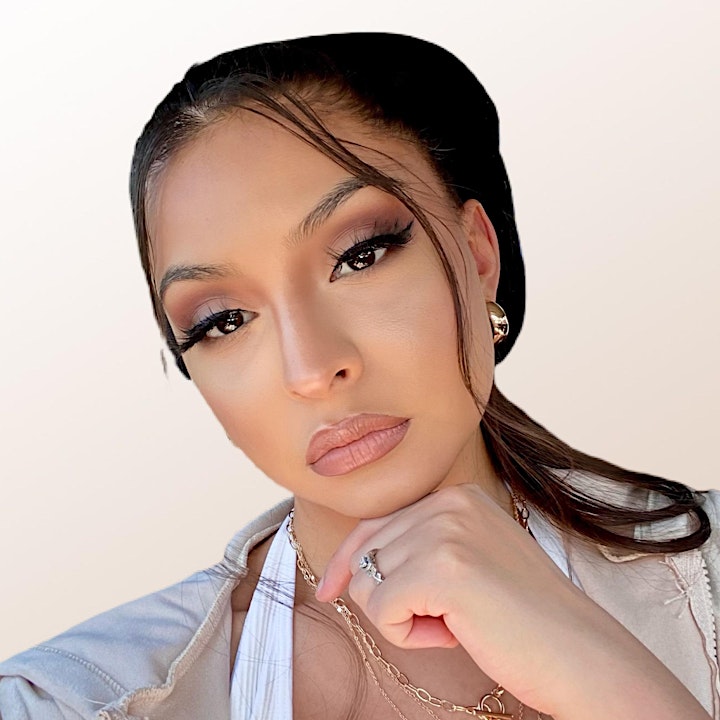 Nancy Murray
Nancy Murray is A Melodic Rapper from Richmond, California, with an unfailing passion for the community. She is known for putting on some really successful artistic events, by the name "ARTNMUSEIC". Currently, she works as a licensed esthetician and has fallen in love with doing facials, waxing, and makeup.
Youtube: @Nancy's Life
Facebook: @Artnmuseic
Instagram: @richcitynancy
Adrianna Avalos
Instagram: @itssssadriii
Elissa Laymon (Lissa)
Instagram: @lissasound
El &
Twitter: @elandtheworld
Instagram: @el.and.music
YouTube: @el &
Jaidon
Instagram: @thekingjaidon_
Spotify: @Jaidon
Youtube: @Jaidon's Music
RYSE YOUTH CENTER
Website: https://rysecenter.org/
Facebook: @RYSE Center
Instagram: @ryseyouthcenter
The UC Theatre
Website: www.theuctheatre.org
Facebook: @The UC Theatre
Instagram : @theuctheatre