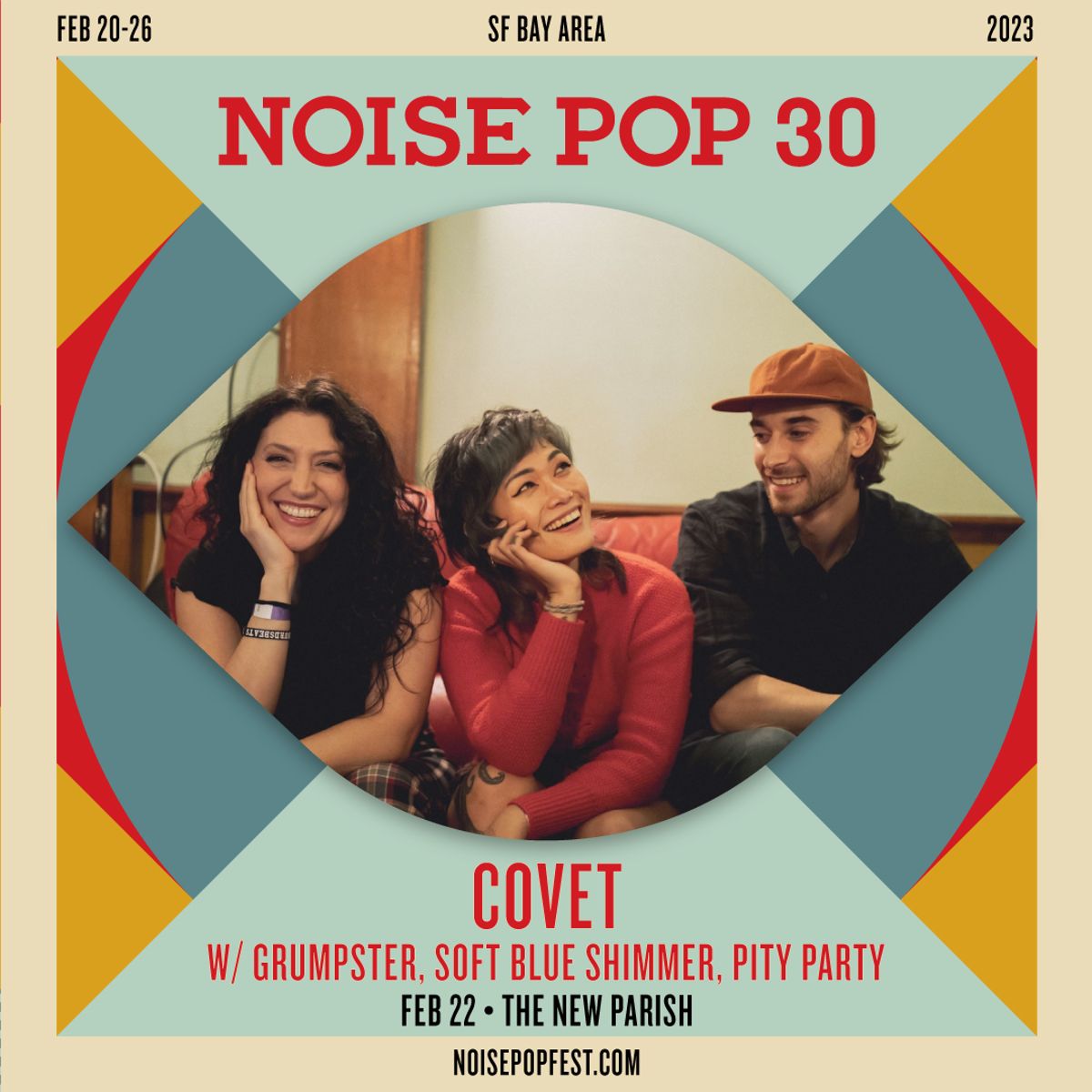 Covet *Moved To New Parish*
Grumpster, Soft Blue Shimmer, Pity Party
Wednesday, February 22, 2023
Doors: 7:00pm • Show: 8:00pm
*Moved to New Parish, 1743 San Pablo Ave, Oakland, CA 94612
Ticket Link: https://www.ticketweb.com/event/covet-grumpster-soft-blue-shimmer-the-new-parish-tickets/12955555?pl=newparish

General Admission Standing Room with Limited Seating
with special guests
Grumpster, Soft Blue Shimmer, Pity Party


Covet started in 2014 as a bedroom project by guitarist Yvette Young, who at the time, was balancing writing music part time with working as an art teacher. Over the years, the project has certainly grown beyond its "Bay Area garage band" roots and has been fortunate enough to reach people all over the world- enough so that Young eventually left her teaching job to pursue making music with a band full-time.
With a background in visual art, art therapy/education, and classical piano/violin, Young aims to write emotive songs that capture colorful imagery, uplift, and tell stories. Their sound can be described as "instrumental progressive rock" but the music draws influence from many genres like Midwest emo and shoegaze and doesn't try to adhere to one main sound. Young's fluid and polyphonic fingerstyle approach to guitar is often described as very piano-like, and although her playing at surface level is technical and intricate, the music still aims to make people feel something and make people want to dance.
The band has released an EP Currents, an acoustic EP, and 2 full length albums Effloresce and Technicolor. Over time the sound has really transformed from its twinkly mathrock origins to a more evolved, fuller, more melodically complex sound that incorporates a myriad of tones and textures. There is currently one new album in the works, which the band will be playing songs from.