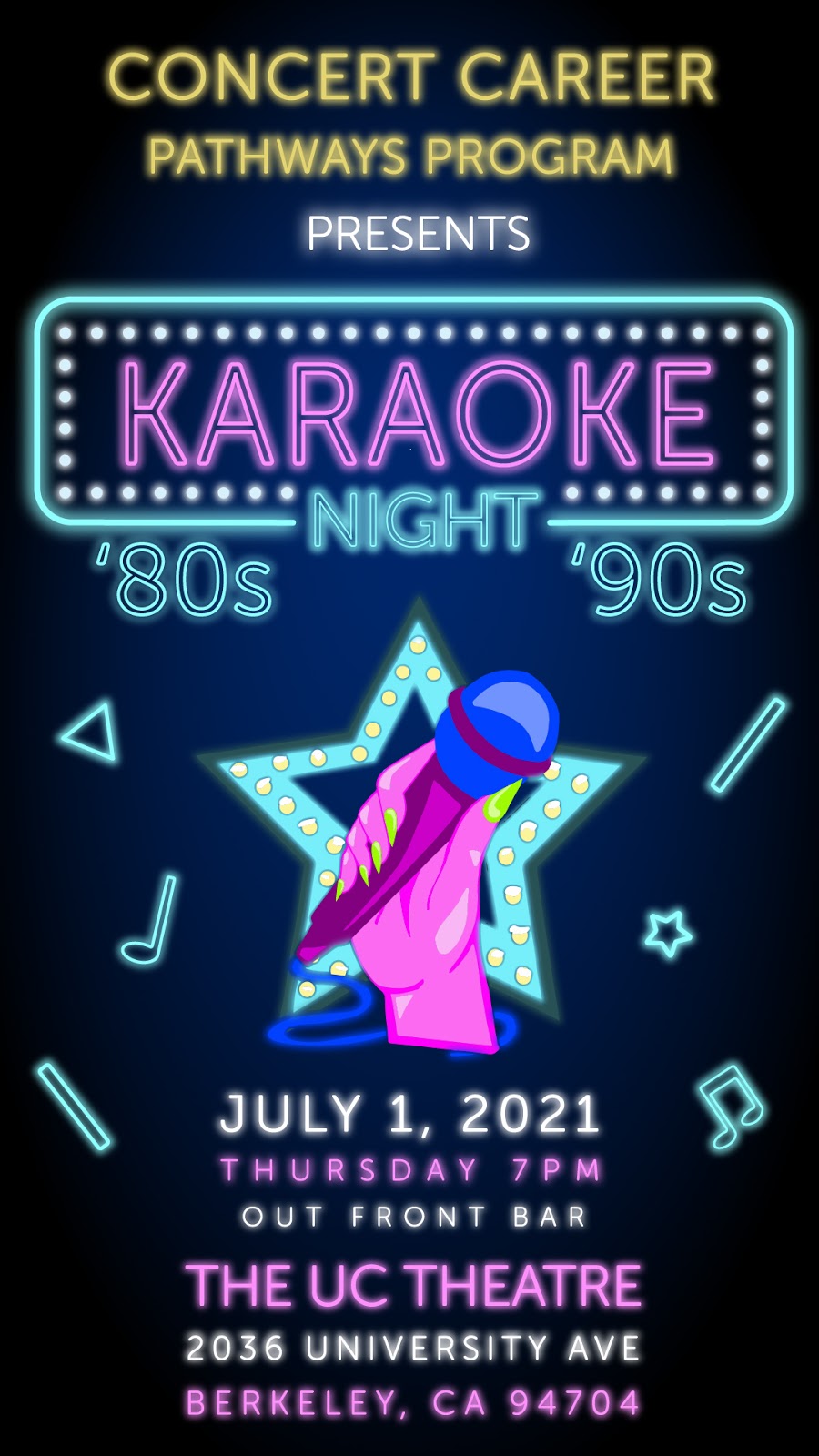 Concert Career Pathways presents: 80's/90's Karaoke Night Out Front Bar
Thursday, July 1, 2021
Doors: 6:30PM • Show: 7PM
On the first of July, we are throwing it back at Out Front with 80's/90's karaoke! Donate $10 to sing two Karaoke songs. We encourage everyone to dress up in their 80's or 90's attire.
During this fun filled night we will spin some of the best songs from the 80's and 90's. Song requests are welcomed, as this will be a night to remember. Proceeds from this Karaoke night will directly benefit The UC Theatre's Concert Career Pathways program.
Concert Career Pathways is a nine-month program for people ages 17-25 that combines workshops and paid internships. Program participants have the opportunity to learn best practices in production management, event coordination, stagehand, floor staff, live sound engineering, lighting design, event budgeting, box office operations, marketing, social media promotion, booking and more.
Guests and staff will adhere to current CDC and state/local guidelines regarding social distancing in order to prevent the spread of COVID-19. Our community and staff always come first, so here are some guidelines to keep in mind when joining us this weekend:
• All guests are required to wear face coverings at all times unless they are actively eating or drinking.
• All guests should leave at least 6 feet away from the person closest to them not in their party.
• All guests will be required to have a temperature screen before being seated in the outdoor dining area or approaching the service area.
• Each table will include seats for 4 guests. No more than 4 guests can occupy a table at any time.