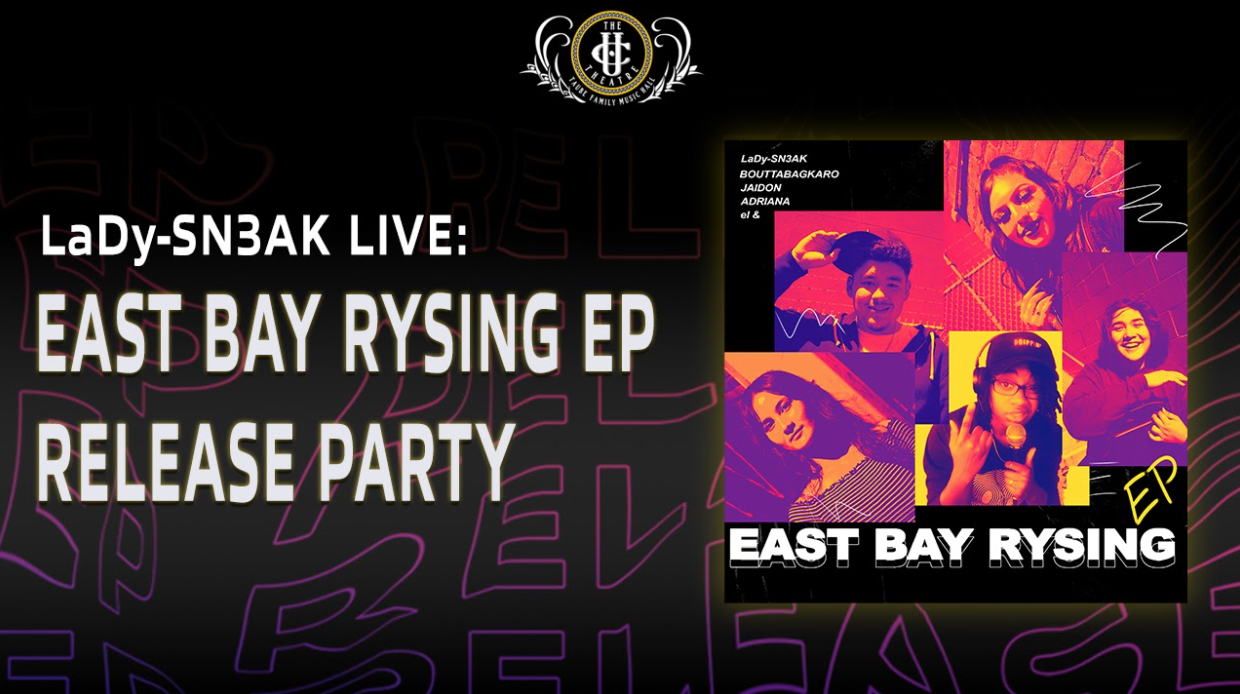 LaDy-SN3AK LIVE: EP Release Party
Sunday, June 27, 2021
Show: 7PM
The EP Release Party marks the end of the year for the East Bay Rysing program, and each performance has led our performers to this moment. This fifth and final livestream will show just how far each artist has come throughout the program and within their lives as creatives. All featured artists from this year's events will perform songs not only from their own upcoming releases, but also debut tracks off a very special East Bay Rysing EP dropping on June 30th. Join us to witness the progress our artists have cultivated and enjoy some amazing new music!
This event is asking for a $12 donation. All proceeds will directly support The UC Theatre's Education programs.
East Bay Rysing, is an artist development program that helps up and coming Bay Area performers grow their craft by taking development classes at RYSE, working with LaDy-SN3AK, and performing on The UC Theatre's stage!
Featured Artists:
LaDy-SN3AK

LaDy-SN3AK's Bio: Shakeea T. Smith, best known as "LaDy-SN3AK is a Singer, Songwriter, bred in the Bay Area, California. Her unprecedented creativity, undeniable vocal abilities, enthusiasm, fused with electrifying energy "sneaks up" on her audiences compelling them to vibe. LaDy-SN3AK unapologetically pays tribute to her creative influences such as: Beyonce, Lauryn Hill, and Tupac Shakur drawing inspiration from artists who have strong conviction in their ideas and beliefs.

Speciual Guests: Feline Finesse Dance Company
Feline Finesse Dance Company Bio: Feline Finesse Dance Company is an all-female, youth dance organization rooted in Bayview Hunters Point. We strive to create a safe haven for all young ladies to freely, creatively, and artistically express themselves through dance while empowering them to reach their fullest potential, goals, and dreams. We encourage, empower, and finesse!
BouttaBagKaro


BouttaBagKaro's Bio: Ikaro Silva, also known as BouttaBagKaro is a 16 year old upcoming artist. He was born in San Pablo, California but his family is from Brazil so he loves to represent his second home. Ikaro makes many types of rap music from love songs, to lyrical songs, and also lit and fun songs. Ikaro loves to spend time with his family and people that believe in his music and what he wants to accomplish. He loves to write and record music whenever he has the time. In his free time he loves to play video games and to run basketball games with his friends.
Adriana Avalos


Adriana's Bio: My name is Adriana Avalos and I am a 15 year old youth ryse member and a chicana poet. I am a proud young woman and I love to represent period. Poetry is not my art, only a way to express it so I believe poetry and using our hearts to speak our minds is very important to accomplish solidarity as a whole.
Jaidon(EBR Featured Artist)


Jaidon's Bio: Hi I'm Jaidon! I am an independent multi-instrumentalist singer/songwriting musician. I perform alternative rock and I mainly play my guitar and sing live. I want to let people know that it's okay to feel the way they feel through my music.
El &:


El &'s Bio: El & is a singer, songwriter, and entertainer with a passion for people and the stories they tell. She is known to inspire through her music by writing about mental health, social awareness, and minority representation. Through telling the stories not often told, El aspires to spread justice and compassion across people of all walks of life.

RYSE YOUTH CENTER