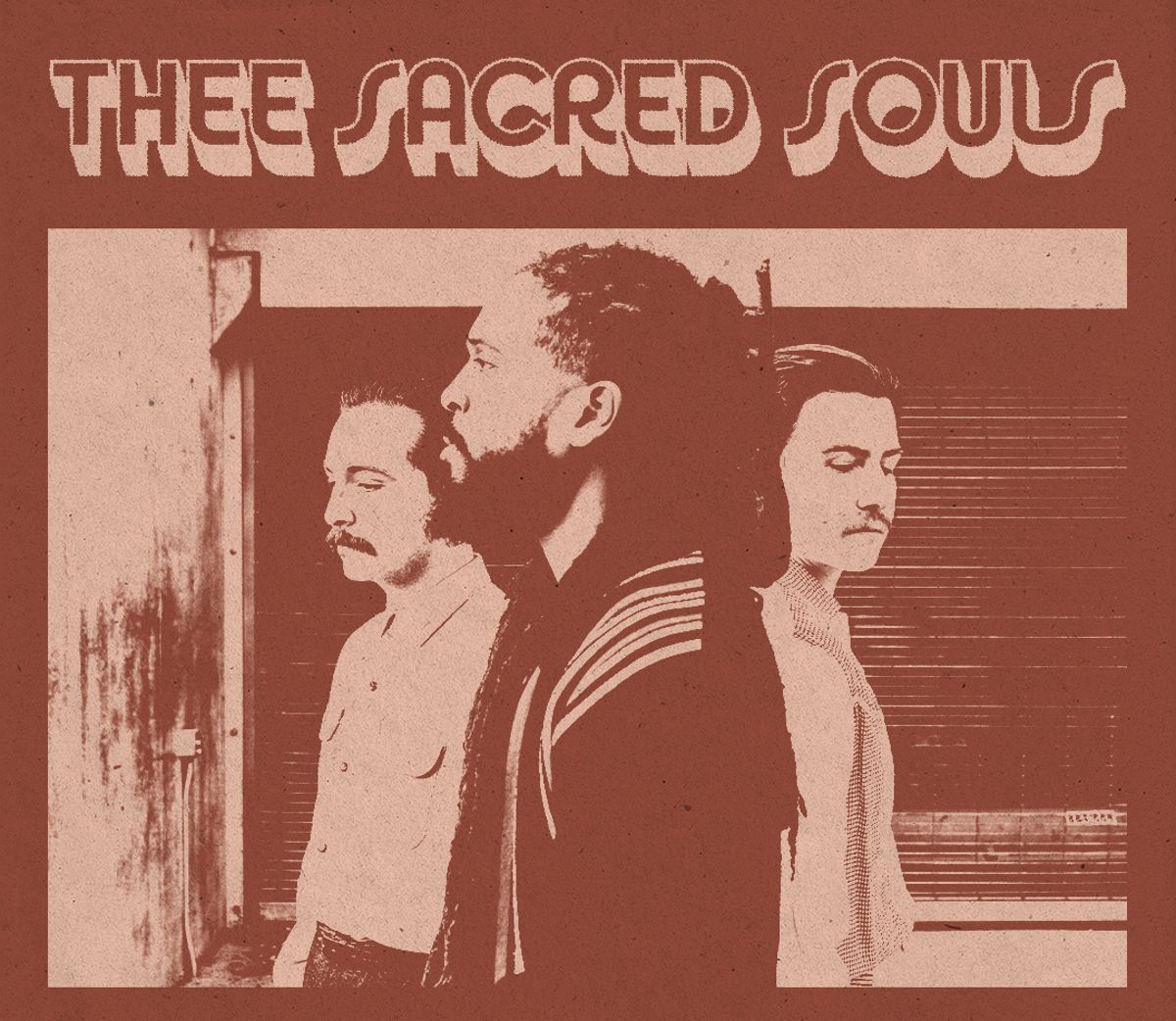 Thee Sacred Souls
Jalen Ngonda - (((folkYEAH!))) + THE UC THEATRE PRESENTS
Saturday, February 18, 2023
Doors: 7:00pm • Show: 8:00pm
General Admission Standing Room with Limited Seating


with special guest
Jalen Ngonda
For
Thee Sacred Souls
, the first time is often the charm. The band's first club dates led to a record deal with the revered Daptone label; their first singles racked up more than ten million streams in a year and garnered attention from Billboard, Rolling Stone, and KCRW; and their first fans included the likes of Gary Clark Jr., The Black Pumas, Princess Nokia, and Timbaland. Now, the breakout San Diego trio is ready to deliver yet another landmark first with the release of their highly anticipated, self-titled debut.
"Every step of the way has just been so organic," says drummer Alex Garcia. "Things just seem to happen naturally when the three of us get together."
Indeed, there's something inevitable about the sound of Thee Sacred Souls, as if these ageless songs of love and loss have somehow always existed, as if Garcia and his bandmates—bassist Sal Samano and singer Josh Lane—have been playing together for a lifetime already. Produced by Bosco Mann (aka Daptone co-founder Gabriel Roth), the record is warm and textured, mixing the easygoing grace of sweet '60s soul with the grit and groove of early '70s R&B, and the performances are utterly intoxicating, with Lane's weightless vocals anchored by the rhythm section's deep pocket and infectious chemistry. Hints of Chicano, Philly, Chicago, Memphis, and even Panama soul turn up in their music, and while it's tempting to toss around labels like "retro" and "vintage" with a deliberately analog collection like this, there's also something distinctly modern about the band that defies easy categorization, a rawness and a sincerity that transcends time and place.

Jalen Ngonda

Presently residing in the UK, Jalen Ngonda grew up just outside of Washington D.C., At the tender age of 11 his father introduced him to the joys of soul music, most notably Motown's robust catalog, which he soaked up like a thirsty sponge, guiding him on the path to become the remarkable artist that he is today. With this inaugural release Jalen delivers mid-tempo magic that will make you feel his Motown roots as opposed to wearing them on his sleeve. 'Just Like You Used To' drops with groove and vibe in equal measure, providing the perfect foundation for Jalen's vocals to soar.

Clearly a keen student of the genre's revered pioneers, Jalen possesses a rich, nuanced voice that sets him miles apart from other contemporaries. Inspiration for his compositions derives from a variety of places. "Everyday life. Anything, really," he says. "To a stranger, I would say my music is soul/R&B, while trying to fit in the Beach Boys and the Beatles somewhere in between."

His first ever US tour brought him to New York City's Summer Stage Festival, Picktathon, and the history-laden Newport Folk Festival. "The Newport Folk Festival was absolutely amazing," says Jalen. "The crowd they bring every year just loves to hear good music. To think that so many great artists and bands played there in the past, you feel like you're part of the festival's timeline." He's also been a supporting act for Laura Mvula and Lauryn Hill at the Montreal Jazz Festival and wowed sold-out houses on his own in Germany, UK and Switzerland.