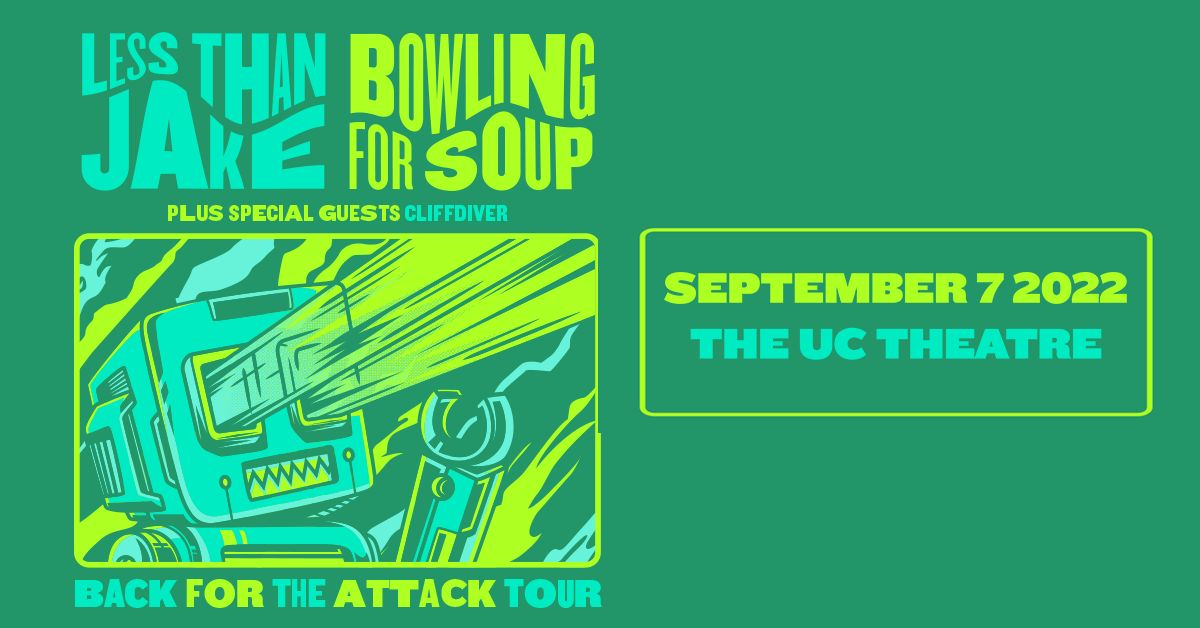 Less Than Jake & Bowling For Soup: Back For The Attack Tour
Cliffdiver, Dolls Skin
Wednesday, September 7, 2022
Doors: 7:00pm • Show: 8:00pm
Standing Room Only - Limited Seating Availability

With special guest Cliffdiver

Less Than Jake
The story of ska-rockin' maestros Less Than Jake isn't told in their sizable discography. It can't be calculated by the amount of road miles they've logged. (But if we're forced to calculate, we think they might be a block or two short of the Van Allen belts.) Nah! Less Than Jake's cumulative worth is all about what they bring to your party. From sweaty club shows to uproarious festival dates to opening up for America's most beloved rock acts, these five lifers' deeds are best measured in the smiles they've slapped on the faces of true believers and new listeners, alike.Silver Linings is the name of the new Less Than Jake album, their first full- length for the Pure Noise label and the follow-up to 2013's See The Light. It also doubles as a bunch of sonic diary pages and a mission statement that cements their conviction after two decades in this rock 'n' roll circus. Indeed, LTJ—frontman/guitarist Chris DeMakes, bassist/vocalist Roger Lima, trombonist Buddy Schaub, saxophonist Peter "JR" Wasilewski and new drummer Matt Yonker—have escaped most (but not all) forms of ennui, depression and violence against screen-based objects to create an endorsement of humanity.