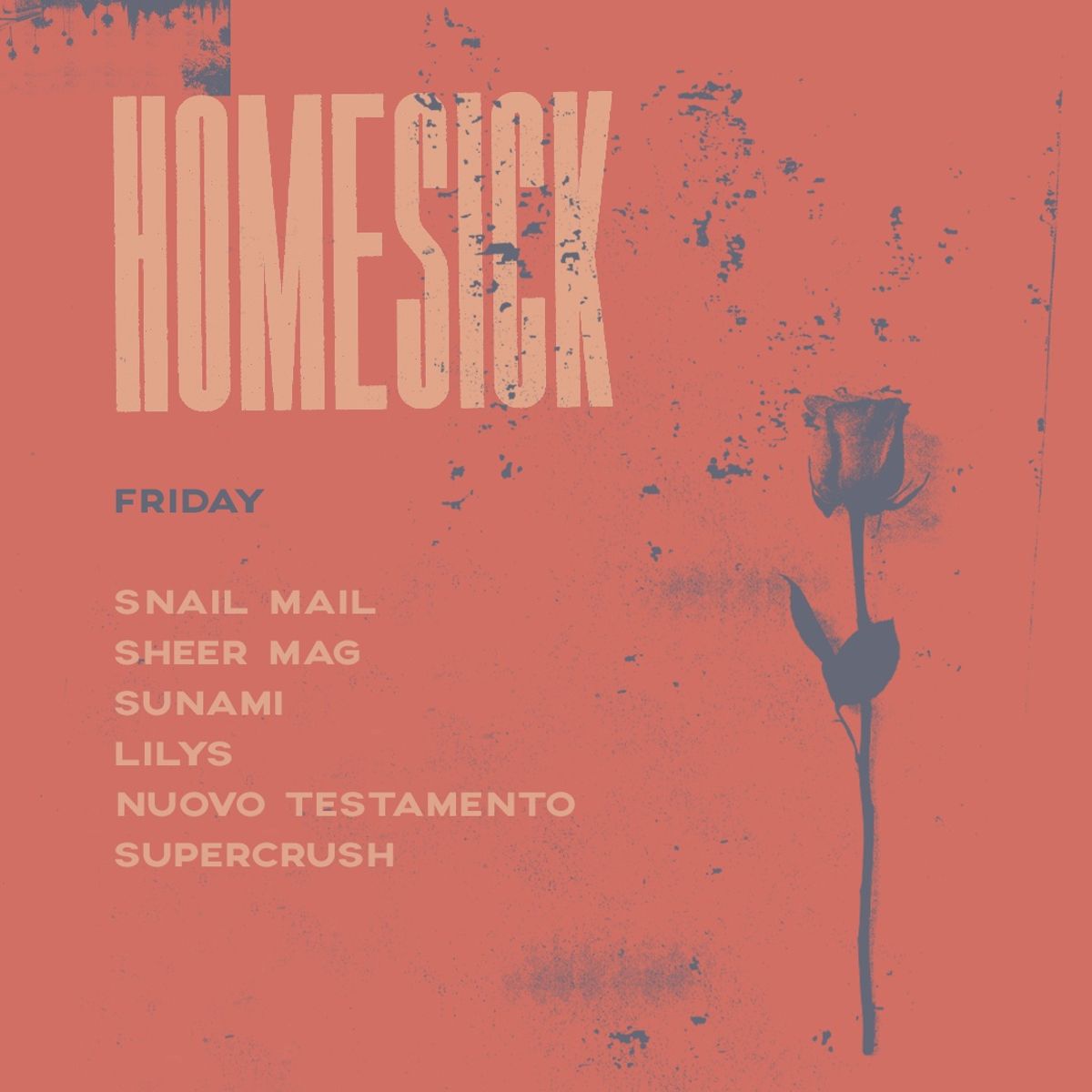 Homesick Night 1 2023 featuring Snail Mail
Sheer Mag, Sunami, Lilys, Nuovo Testamento, Supercrush
Friday, January 20, 2023
Doors: 4:00pm • Show: 5:00pm
General Admission Standing Room with Limited Seating

Night 1 - Friday, January 20, 2023
with Snail Mail, Sheer Mag, Sunami, Lilys, Nuovo Testamento, Supercrush

Two Day Passes Available

HOMESICK FESTIVAL returns for its fifth year! This time around the festival crashes Berkeley, Cali for a special two-night event at the historic The UC Theatre. The initial lineup includes: Snail Mail, Deafheaven, Fiddlehead, Lilys, Margaritas Podridas, Nuovo Testamento, Screaming Females, Sheer Mag, Shutups, Spy, Sunami, Supercrush, Tempers - and more TBA.
With the hope of bringing together all kinds of freaks and subversive wanderers for a night of dance and song, Ceremony's Anthony Anzaldo created HOMESICK. Since its inception, the fest has grown to be a staple and destination event with sold-out installments in Petaluma, Berkeley and Pomona.
Over the years HOMESICK has been lucky enough to showcase an array of artists from the likes and sounds of Ceremony, SPELLING, Power Trip, Mary Lattimore, Cold Cave, Joyce Manor, Drab Majesty, The Umbrellas, Black Marble, Gulch, Touché Amoré and many more artists who embody the multifarious and diverse spirit of the underground world.