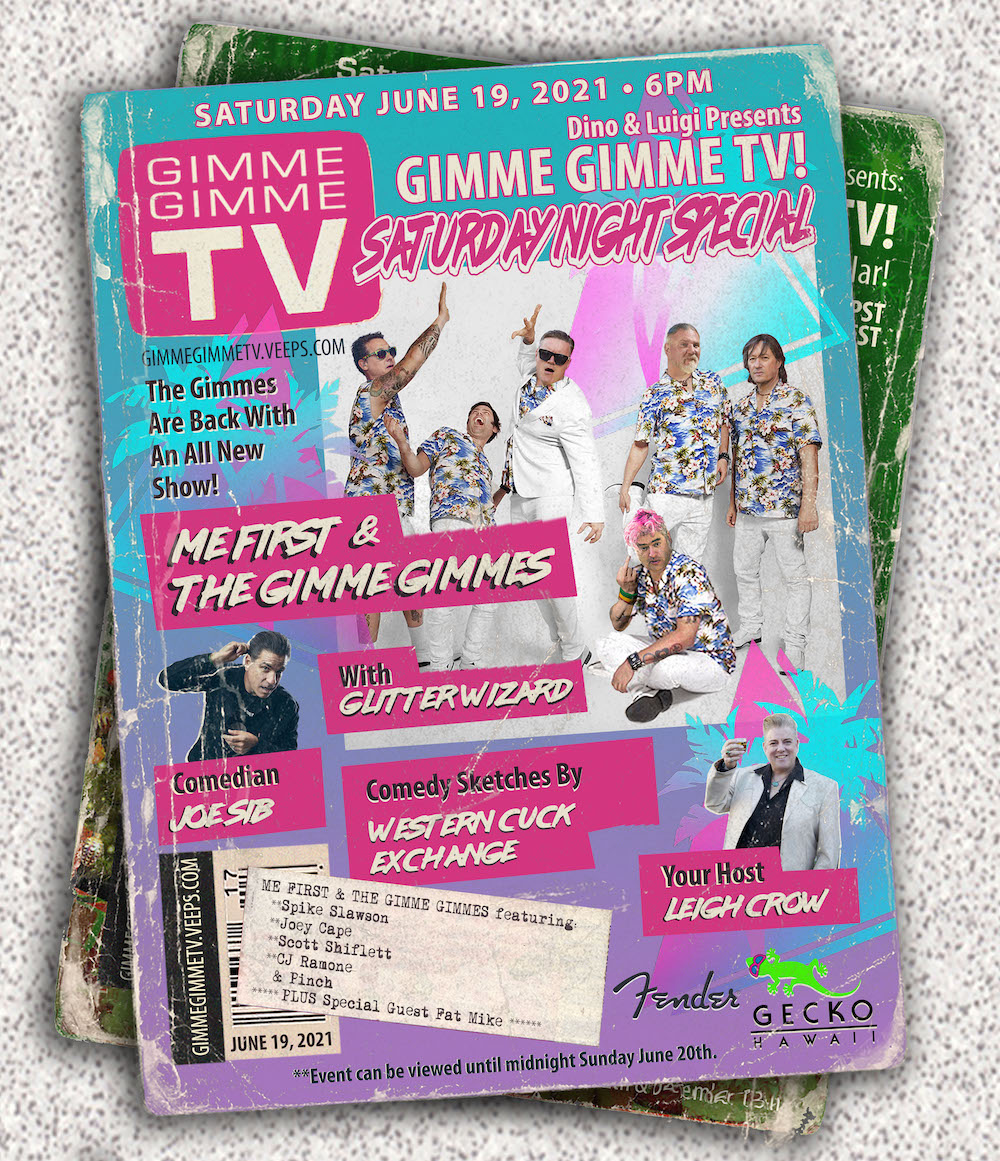 Gimme Gimme TV! "Saturday Night Special"
Me First and The Gimme Gimmes
Saturday, June 19, 2021
Show: 6PM
DINO & LUIGI Presents
GIMME GIMME TV!
EPISODE 2: "SATURDAY NIGHT SPECIAL"
All you need are some tasty waves, a cool buzz and Gimme Gimme TV! Start your summer off right with Me First And The Gimme Gimmes and their guests: glam gods Glitter Wizard, funny man Joe Sib, sketch comedy by Western Cuck Exchange and world renowned MC and cocktail enthusiast Leigh Crow. Gimme Gimme TV! returns with its second episode: "Saturday Night Special" and we're headed to Miami Beach for some neon-laced, rock n roll madness! If you can't paddle out, you'd better watch from the shore as Spike, Fat Mike, Joey Cape, Scott Shiflett, CJ Ramone and Pinch slang some persy nugs from the bottom of the barrel. The Gimme Gimme TV! "Saturday Night Special" premiers Saturday, June 19th, 2021 at 6pm PDT and is available through midnight June 20th at GimmeGimmeTV.Veeps.com.
Glitter Wizard plays a unique brand of freak rock Julian Cope described as "unashamedly glamorous hard rock," and he's not wrong. These San Francisco longhairs from another dimension were raised on punk and mix screaming riffs with a high-octane stage show full of sequins, headbanging and a sonic attack that'll leave you dazed and ready for the next hit. Imagine the Stooges stole the outfits from the Spiders from Mars, synth man Dik Mik from Hawkwind and hit the stage on a speed bender. "Glitter Wizard is the only band I will ever serve, and I love their outfits!" - Satan
http://glitterwizard.bandcamp.com/
https://youtu.be/_sQt32XKvbE
Joe Sib, co-founder and co-conspirator of Side One Dummy Records for 25 years, has continued to climb up the ranks of the comedy scene. Joe released his first comedy record, Joe Sib Nowhere Near the Top, in April 2017 which debuted #3 on the Billboard's Comedy Chart. From the 1980s punk scene to millennium parent, Joe's comedy takes you on a manic, ride from growing up in the era of "safety last", and into the present, as he tries to helicopter parent without a license.

After throwing himself into the punk and skate underground of his California hometown, Joe's band Wax was signed to a major label as part of the early '90s breakthrough of punk rock into the mainstream. He co-founded an indie label, SideOneDummy, that signed such now-iconic bands as Flogging Molly and the Gaslight Anthem. Turning his behind-the-music stories from the road into a one-man show led to touring as a stand-up comic, which led to such highlights as his recent tour with Metallica, in which he and comedian Jim Breuer created a show that re-defined the term "opening act." With every new twist and turn in his path, Joe has been left wondering "How did I get here?"
Western Cuck Exchange: Max Baumgarten is a comedic dance psychologist and circus clown. Recent credits include FX's "Two Pink Doors" and "Opium at The Cosmopolitan of Las Vegas". His favorite color is green. Mirthquake Jackson is a composer and comedian. He has a song writing comedy podcast called Dumposers! His favorite food is justice.

Leigh Crow is a gender bending cabaret singer who gained notoriety as the worlds first female Elvis Impersonator, Elvis Herselvis. She has portrayed among others William Shatner, John Travolta, Jack Nicholson. Eydie Gorme, and Liz Taylor. In her 30 years of performing she has been featured in Drag shows, independent films, feature films, musicals, rock bands, music videos, documentaries, performance art and anything else that struck her fancy! Check out "Velvetta' her Classic Country band at velvettacountry.bandcamp.com